Our variable speed conversion kits with throttle top speed limiter for Razor electric scooters convert scooters with single off-on speed control to have infinitely variable 0-100% speed control and the option to limit the top speed of the scooter for safety or training purposes.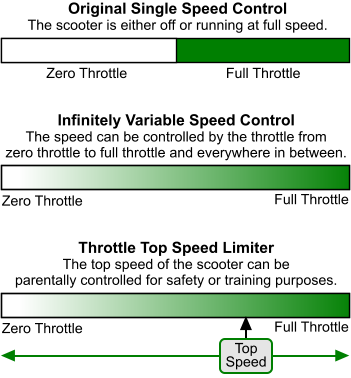 Infinitely variable speed control allows the scooter to be driven at any speed from zero throttle to full throttle and everywhere in between. This provides a safer and more enjoyable riding experience due to the rider having complete control over the speed of the scooter.
The throttle top speed limiter allows parental control of the scooter's top speed and it can be readjusted to a different top speed at any time. The top speed adjustment knob is located under the footboard so it can not be readily adjusted by riders and requires taking the footboard off of the scooter to readjust it.