Currie® Phat-E Electric Scooter Parts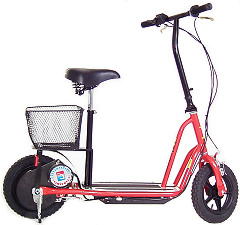 ---
Motor Conversion Kit for Currie® Phat-E Electric Scooter
The original brushless motor with built-in speed controller for the Currie Phat-E electric scooter is discontinued and no longer available. This kit replaces the original brushless motor with a more reliable brushed motor with external speed controller and upgraded throttle. Plug-and-play installation. No cutting and splicing of wires is required.

Kit includes 500 Watt brushed motor with 15 tooth freewheel sprocket, 500 Watt speed controller, and twist throttle with battery level indicator lights.


Item # KIT-CT500

Compatible with right hand motor versions of the Phat-E scooter. Not compatible with left hand motor versions.

Example

$179.95

---
Battery Set for Currie® Phat-E Electric Scooter
Set of two 12 Volt 10Ah batteries for the Currie® Phat-E electric scooter. Includes 12 month battery replacement warranty.

Warranty Details
Item # BAT-12V10AHX2
---
Battery Pack with Case and Wiring Harness for Currie® Phat-E Electric Scooter
Plug-and-play battery pack for the Currie® Phat-E electric scooter. Includes two 12 Volt 10Ah pre-wired batteries, heavy-duty woven nylon zippered soft case with built-in handle, and pre-installed wiring harness. Fully assembled and ready to use. Includes 12 month battery replacement warranty.

Warranty Details
Item # BAT-2410PK

$99.95

---
Off-Scooter Battery Pack Charging Adapter for Currie® Phat-E Electric Scooter
Battery pack charging adapter for the Currie® Phat-E electric scooter. Allows one battery pack to be recharged outside of the scooter while the other battery pack is installed in the scooter and being used. 
Item # CNX-BA075
$8.95

---
Battery Pack Bag with Wiring Harness for Currie® Phat-E Electric Scooter
Heavy duty woven nylon battery pack bag with zipper and carry handle for the Currie® Phat-E electric scooter. Includes wiring harness.
Item # CTE-B2410
$29.95

---
Battery Pack Wiring Harness for Currie® Phat-E Electric Scooter
Battery pack wiring harness for the Currie® Phat-E electric scooter.
Item # CNX-BA0574
$14.95

---
Battery Charger for Currie® Phat-E Electric Scooter
OEM battery charger for the Currie® Phat-E electric scooter. Charger rating: 24 Volt, 1.5 Amp
Item # CHR-C24V1.5AXLR
$44.95

---
Battery Charger for Currie® Phat-E Electric Scooter
Battery charger for the Currie® Phat-E electric scooter. Charger rating: 24 Volt, 1.6 Amp
Item # CHR-24V1.6AXLR
$27.95

---
Quick-Charge Battery Charger for Currie® Phat-E Electric Scooter
Quick-charge battery charger for the Currie® Phat-E electric scooter. Charger rating: 24 Volt, 3 Amp. Recharges the battery pack in around 1/2 the time that it takes the original 1.5 Amp charger.
Item # CHR-24V3AXLR

$49.95

---
Quick-Charge Battery Charger for Currie® Phat-E Electric Scooter
Quick-charge battery charger for the Currie® Phat-E electric scooter. Made by Currie®. Charger rating: 24 Volt, 4 Amp. Recharges the battery pack in around 1/3 the time that it takes the original 1.5 Amp charger.
Item # CHR-C24V4AXLR
$74.95

---
Twist Throttle for Currie® Phat-E Electric Scooter
Twist throttle for the Phat-E electric scooter. Includes matching left hand handlebar grip. This throttle has a long enough cord so the extension cord listed below is not required for it to fit the Phat-E electric scooter.
Item # THR-MAG5KC
$81.95

---
Thumb Throttle for Currie® Phat-E Electric Scooter
Thumb throttle for the Phat-E electric scooter. Includes handlebar mounting bracket and hardware. Requires purchase of item # CNX-42 sold below to fit the Phat-E electric scooter, otherwise the cord will not be long enough.
item # THR-AWI5K
$69.95

---
3 Pin Throttle/Speed Controller Cable Extension Cord for Currie® Phat-E Electric Scooter
3 Pin throttle extension cord. Interconnects with item # THR-AWI5K sold above. This extension cord is required when purchasing the thumb throttle sold above to make the throttle cord long enough to fit the Phat-E electric scooter.
Item # CNX-42
$13.95

---
Fuse for Currie® Phat-E Electric Scooter
Fuse for the Currie® Phat-E electric scooter. Fuse rating: 40 Amp
Item # FUS-ATO40
$.95

---
Power Switch for Currie® Phat-E Electric Scooter
On/Off power switch for the Currie® Phat-E electric scooter. Universal power switch symbols: I = On position and O = Off position.
Item # SWT-160
$5.95

---
Power Switch for Currie® Phat-E Electric Scooter
On/Off power switch for the Currie® Phat-E electric scooter.
Item # SWT-156
$5.95

---
S-Style Street Tread Tire for Currie® Phat-E Electric Scooter
Heavy-duty s-style street tread tire for the Currie® Phat-E electric scooter. Tire size 12-1/2x2-1/4.
Item # TIR-1250
$17.95

---
X-Style Street Tread Tire for Currie® Phat-E Electric Scooter
Heavy-duty x-style street tread tire for the Currie® Phat-E electric scooter. Tire size 12-1/2x2-1/4.
Item # TIR-1251
$17.95

---
Tube for Currie® Phat-E Electric Scooter
Standard-duty tube for the Currie® Phat-E electric scooter. Tube size 12-1/2x2-1/4.
Item # TUB-125
$3.95

---
Tube with Bent Valve Stem for Currie® Phat-E Electric Scooter
Standard-duty tube with bent valve stem for the Currie® Phat-E electric scooter. Tube size 12-1/2x2-1/4.
Item # TUB-125BV
$7.95

---
Heavy-Duty Tube for Currie® Phat-E Electric Scooter
Heavy-duty tube for the Currie® Phat-E electric scooter. Three times heavier than our standard-duty tubes. Tube size 12-1/2x2-1/4.
Item # TUB-125HD
$9.95

---
Front Rim for Currie® Phat-E Electric Scooter
Front aluminum alloy rim for the Currie® Phat-E electric scooter. Includes bearings, axle, and hardware
Item # WHL-700F
$59.95

---
Rear Rim for Currie® Phat-E Electric Scooter
Rear aluminum alloy rim for the Currie® Phat-E electric scooter. Includes bearings, axle, and hardware.
Item # WHL-700R
$59.95

---
Rear Rim for Currie® Phat-E Electric Scooter
Rear aluminum alloy rim for the Currie® Phat-E electric scooter. Includes bearings, axle, and hardware.
Item # WHL-1048
$49.95

---
Wheel Bearing for Currie® Phat-E Electric Scooter
Wheel bearing for the Currie® Phat-E electric scooter front and rear wheels. This bearing only fits versions with one-piece aluminum alloy rims. Does not fit versions with plastic or steel spoke rims.
Item # BRG-6000Z
$2.95

---
Motor Sprocket for Currie® Phat-E Electric Scooter
Motor sprocket for the Currie® Phat-E electric scooter.
Item # SPR-2515F
$24.95

---
Continuous Loop Chain for Currie® Phat-E Electric Scooter
Heavy-Duty continuous loop chain for the Currie® Phat-E electric scooter.
Item # CHN-HD25100C
$18.00

---
Chain with Master Link for Currie® Phat-E Electric Scooter
Heavy-Duty chain with master link for the Currie® Phat-E electric scooter.
Item # CHN-HD25100
$18.00

---
Rear Sprocket for Currie® Phat-E Electric Scooter
Rear wheel sprocket for Currie® Phat-E electric scooter.
Item # SPR-2590

$29.95



---
Brake Lever for Currie® Phat-E Electric Scooter
Brake lever for the Currie® Phat-E electric scooter.
Item # LEV-32
$11.95

---
Rear Brake Cable for Currie® Phat-E Electric Scooter
Rear brake cable for the Currie® Phat-E electric scooter.
Item # CBL-101
$3.95

---
Brake for Currie® Phat-E Electric Scooter
Rear band brake for the Currie® Phat-E electric scooter. Chrome plated finish.
Item # BRK-90C
$13.95

---
Brake for Currie® Phat-E Electric Scooter
Rear band brake for the Currie® Phat-E electric scooter. Black enamel finish.
Item # BRK-90B
$13.95

---
Band Brake Mounting Hardware for Currie® Phat-E Electric Scooter
Band brake mounting hardware for Currie® Phat-E electric scooter.
Item # HDW-188
$3.95

---
Brake Cable Pinch Bolt for Currie® Phat-E Electric Scooter
Brake cable pinch bolt for the Currie® Phat-E electric scooter.
Item # BRK-226
$.95

---
Seat with Dual Rear Springs for Currie® Phat-E Electric Scooter
Seat for the Currie® Phat-E electric scooter. Dual rear spring suspension. Heavy duty steel rail construction under the seat. Includes seat post mounting hardware.
Item # SET-258
$19.95

---
Large Seat with Dual Rear Springs for Currie® Phat-E Electric Scooter
Premium extra-large and extra-comfortable seat with built-in dual rear spring suspension for the Currie® Phat-E electric scooter. Thick foam rubber padding. Heavy duty steel rail construction under the seat. Includes seat post mounting hardware. This seat measures 10-5/8" x 10-1/4" across the top.
Item # SET-251
$29.95

---


Chrome Seat Post for Currie® Phat-E Electric Scooter
Chrome plated steel seat post for the Currie® Phat-E electric scooter. Installation requires a seat tube (sold below). 25.4 (1") OD.
Item # SPT-150
$8.95

---


Aluminum Seat Post for Currie® Phat-E Electric Scooter
Lightweight aluminum steel seat post for the Currie® Phat-E electric scooter. Installation requires a seat tube (sold below). 25.4 (1") OD.
Item # SPT-161
$9.95

---


Seat Tube for Currie® Phat-E Electric Scooter
Seat tube with seat post clamp for the Currie® Phat-E electric scooter. Installation requires a seat tube base for this seat tube to mount into. 15-1/2" long x 25.4mm (1") ID x 28.8mm (1-1/8") OD.
Item # SPT-300
$22.95

---
Folding Handlebars for Currie® Phat-E Electric Scooter
Folding handlebars with mounting hardware for the Currie® Phat-E electric scooter.
Item # CTE-HANDLEBARS
$39.95

---
Handlebar Tightening Bolt And Wedge for Currie® Phat-E Electric Scooter
Handlebar tightening bolt and wedge for the Currie® Phat-E electric scooter.
Item # HDW-350
$8.95

---
Handlebar Quick-Release Mechanism for Currie® Phat-E Electric Scooter
Folding handlebar quick-release mechanism for the Currie® Phat-E electric scooter.
Item # CTE-QRM
$6.95

---
Handlebar Grip Set for Currie® Phat-E Electric Scooter
Handlebar grip set for the Currie® Phat-E electric scooter.
Item # GRP-55SET
$4.95

---




2500 Lumen 3 LED Ultra-Bright Headlight for Currie® Phat-E Electric Scooter
Super bright 2500 lumen rechargeable LED headlight set for the Currie® Phat-E electric scooter. Machined aluminum and glass headlight construction with very good build quality. Lighted push button switch on back of light activates three different power modes: normal, high and flashing. Normal power mode is very bright and suitable for almost all riding conditions. High power mode is extremely bright and suitable for higher speed riding and off-road trails. In flashing mode this light blinks on and off very fast. Includes optional adjustable headband, 2500 lumen three LED headlight, handlebar and headband mounting bands, 110-240VAC universal battery charger and a 4400mA 8.4 Volt rechargeable lithium-ion battery in a black nylon carry case with Velcro mounting straps. The battery lasts around 7 hours on low mode, 3 hours on medium mode, 2 hours on high mode and takes 1-5 hours to fully recharge depending on how long the light was on for.
Item # LIT-140
$34.95

---
53 LED Headlight for Currie® Phat-E Electric Scooter
Bright 53 LED headlight for the Currie® Phat-E electric scooter. Top mounted push button switch activates three different power modes: low, medium and high. High power mode turns on all 53 LED's at once. This headlight lights up the road very well at night compared to most other LED headlights. Requires 3 AA cell batteries. (batteries not included)
Item # LIT-53LED
$11.95

---
5 LED Taillight for Currie® Phat-E Electric Scooter
High output 5 LED taillight for the Currie® Phat-E electric scooter. Push button switch on back of taillight activates steady or blinking mode. Easy to install design. Requires 2 AAA cell batteries. (batteries not included)
Item # LIT-600
$4.95

---
Front Reflector for Currie® Phat-E Electric Scooter
White safety reflector for front handlebars of the Currie® Phat-E electric scooter.
Item # REF-150
$4.95

---
Rear Reflector for Currie® Phat-E Electric Scooter
Rear red safety reflector for the Currie® Phat-E electric scooter. Mounts onto seat post.
Item # REF-155
$4.95

---
Rear Reflector for Currie® Phat-E Electric Scooter
Red safety reflector for back of the Currie® Phat-E electric scooter.
Item # REF-160
$5.95

---
Safety Warning Bell With Compass for Currie® Phat-E Electric Scooter
Compass bell for the Currie® Phat-E electric scooter. Pleasant sounding and attention grabbing chime bell sound. Easy to view real magnetic compass. Easy to install design.
Item # BEL-360

$3.95

---
7-1/4" Flexible Valve Stem Extender for Currie® Phat-E Electric Scooter
7-1/4" long flexible valve stem extender with cap. For filling hard to reach valve stems. Reinforced rubber hose with solid brass hardware.
Item # VXT-714
$7.95

---
Green Slide® Chain Lube for Currie® Phat-E Electric Scooter
Green Slide® safe and biodegradable chain lube. The perfect lube for electric scooters and bikes. Made from highly modified tree and plant oils with all natural cling and anti-oxidation additives.
4 fluid ounce / 120 ml bottle. More Information
Item # GSL-4OZ

$4.95

---
Slime® Inner Tube Sealant for Currie® Phat-E Electric Scooter
Instantly seals punctures in the tread area up to 1/8". Remains liquid, evenly coating the inside of the tube. Non-flammable, non-toxic, water soluble, easy to use. For the Currie® Phat-E electric scooter use half a bottle of sealant per tire. 8 fluid ounce / 237mL bottle.
Item # TIR-SL8
$7.95

---
About the Currie Phat-E Electric Scooter: Fun, quiet, easy to operate alternative to short trips in the car. Great local transportation stand-up scooter for all active adults and teens. Folding handlebar allow easy transportation in any car, plane or boat. Average 8-mile range. Fully recharges in 6-8 hours with standard charger. Optional chargers available.
Technical Specifications:
Propulsion System: Patented Electro Drive all-weather direct drive with bolt-on mounting plate.
Motor: Scooter Electro Drive, 24-volt brushless motor with built-in electronic pulse-width modulated (PWM) controller.
Throttle: Handlebar mounted on-demand variable speed thumb throttle.
Power Source: Dual 12-volt, 10-amp hour sealed recyclable lead acid batteries in a steel box frame mounted battery pack.
Colors: Metallic Tangerine, Gloss Black.
Frame: Tubular Hi-Ten full sized 12" scooter.
Plates: Alloy One-piece deck and tail plate.
Fork: Hi-Ten Unicrown.
Headset; Oversized, chromed.
Handlebar & Stem: One piece folding bar and stem.
Brakes: 1000S with black 7X pads or rear band brake.
Brake Levers: MX-60A alloy 3 finger.
Front Hub: Parallax style, 24H, chromed or nylon reinforced mags.
Rear Hub: Alloy, 24H, LH threaded for Electro Drive or nylon reinforced mags.
Spokes: F-14G on spoked wheels.
Rims: Alloy 12 x 1.75 6N style, 24H on spoked wheels.
Tires & Tubes: 12-1/2 x 2-1/4, black.
Kickstand: 12" Single, UCP kickstand.
Extras: 1.5 Amp Smart-Charger (Optional fast charging 3 & 5 amp chargers available).
---