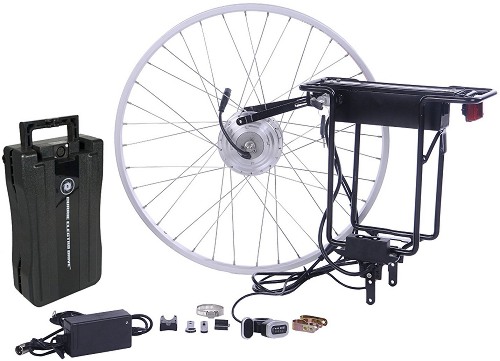 In Stock and On Sale - Retail Price $649.95


Currie Electro-Drive IZIP 4 Electric Bicycle Conversion Kit
Item # KIT-107
On Sale

$649.95

$359.95



The Currie Electro-Drive IZIP Kit 4 electric bicycle conversion kit has a hub motor with a 250 Watt brushless motor coupled to a planetary gear reduction transmission inside of an aluminum hub housing. The hub motor is laced to a double wall alloy aluminum rim for use with 26" tires. The battery pack is rated at 24 Volts and 10Ah. This kit has a thumb throttle with an LED battery level meter. Includes a rear mount battery rack that the battery pack locks into with a key. This kit also includes a battery charger and all necessary mounting hardware. This is an easy to install front wheel motor kit.

This complete bicycle conversion kit includes everything needed to convert a bicycle to electric power including batteries and charger. With this electric bicycle conversion kit you can pedal without using the motor, pedal along with the motor, or use the motors power only. Currie Technologies item number IZIP-KIT4.

Currie Electro-Drive IZIP Kit 4 Specifications



| | |
| --- | --- |
| Range | 15-22 miles (contingent upon terrain, pedaling, and rider weight). |
| Top Speed | 18 MPH (contingent upon terrain, pedaling, and rider weight). |
| Power Rating | 250 Watts. |
| Charge Time | 6-8 hours |
| Wheel | 26" x 1.75" front alloy double wall rim with stainless steel spokes. Suitable for mounting 26x1.5" through 26x2.125" tires and tubes. |
| Motor | 24 Volt 250 Watt brushless DC (BLDC) hub motor with planetary gear reduction transmission. |
| Motor Specifications | 10.2 Nm rated torque, 30 Nm peak torque. |
| Battery | Lead-acid battery pack rated at 24 Volts 10Ah. |
| Battery Weight | 18 Pounds. |
| Battery Lifespan | 250-300 full cycles. |
| Recharge Time | 6-8 hours for full battery discharge. |
| Battery Charger | Automatic battery charger with LED indicator lights. UL listed. 120-240V input Voltage. |
| Weight Limit | 240 Pounds rider weight limit. |
| Warranty | Warranty Link |

"When you need Electric Scooter Parts, go to: ElectricScooterParts.com"
Store Polices | Electric Scooter Repair Help | Dealer Discounts | Feedback | About Us
We Ship Internationally








Copyright© 2002-2020 by ElectricScooterParts.com, an Electricruz Inc. company. All rights reserved.