Batteries > 12 Volt 15Ah Batteries

12 Volt 15 Ah Electric Scooter / Bicycle Battery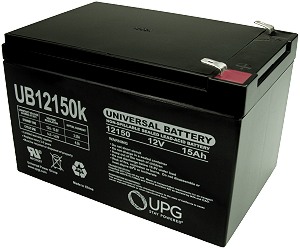 Replaces: All similar sized 12V 11Ah, 12Ah and 14Ah batteries.

Voltage: 12 Volts / 12V

Capacity: 15 Amp hour / 15Ah

Size: 6" long x 3-7/8" wide x 3-3/4" high (151mm x 99mm x 96mm)

Type: Sealed Lead-Acid / SLA
Connectors: 1/4" wide push-on tab connectors / F2
Weight: 8.5 pounds
Warranty: Includes 12 month battery replacement warranty. Warranty Details
Item # BAT-12V15A

$44.95
---
BAT-12V15A batteries fit the following scooters and bikes plus many others:
BladeZ models: XTR 450, XTR 500, 807 XTRS, XTR COMP, XTR COMP II, XTR SE, Power Trans, Street, Street II, Paverunner 450EX, Paverunner 450EL, and Transport electric scooters
Boreem electric scooters (check size)
Charly electric scooter
Citybug and Helper electric scooters
Currie electric bicycle (frame mount)
Currie Electro-Drive electric bicycle kit
Currie electric 3-wheel tricycle
eBike 24 Volt electric bicycle
E-Raser electric scooter (check size)
E-Scooter scooters (check size))
ETC Express electric bicycle kit
eZip 750 electric scooter
eZip 900 electric scooter
Giant LaFree Sport electric bicycle
LashOut electric bicycle
PB 806 and SM 806 electric scooters
Python Electric Bicycle
Rad2Go Great White E-36 &
Leopard Shark E5 electric scooters
Razor MX500 & MX600 Dirt Rocket
electric dirt bikes
Razor E500S electric scooter
Scoot-N-Go electric scooter
Shredder electric scooter
Spartan Sport FS-102 and FS105
Sporty electric scooter
Star II electric scooters (check size)
Synergy Cycles electric bicycle
X-Port electric scooter
X-Treme X-360 electric scooter
X-Treme XP-700 electric pocket bike
Zooma electric scooter
BAT-12V15A replaces the following battery models plus many others:

B.B. battery
BP12-12
CSB battery
GP12120
ECO battery
GS12V12AH
Enduring battery
6-DW-12
Enduring battery
CB 12-12
First Power battery or
FirstPower battery
FP12100
FP 12120
Fullriver battery or
HGL battery
HGL12-12
HGL 12-12
GPS battery
GPS12-12
High / Hgh battery or
Zhejiang / Hangzhuo
Haijiu battery
6-DFM-12A
Long battery
WP12-12
MK battery
ES12-12
Palma battery
PM12-12
Panasonic battery
LCR12V12P
Power Patrol battery
SLA1104

SLA1105

Power Sonic battery
PS-12120
Power Source battery
WP12-12
PM battery
PM12120
LA12120
Rhino battery
SLA10-12
AK, Kstar, So, Toyo, Zhen
Ya, Nanhan, Shunhong,
Yinxin, Seaflo, Sunbright,
New Energy, MCA, BIK,
and Super Power batteries
plus many other brands.
6FM12
6-FM-12
6DZM11
6DZM12
6-DZM-11
6-DZM-12
Universal battery
UB12120
Yausa battery
NP12-12
Yueyang battery
CB12-12
HangYue battery
DZM 12-6
Warranty


12 Month Battery Replacement Warranty

All ElectricScooterParts.com individual batteries and battery sets are warranted against failure due to defects in workmanship and materials for a full 12 months after the batteries are received by the customer.
Should a problem arise with your batteries, warranty service is available by calling ElectricScooterParts.com during their regular business hours at 1-800-908-8082.
How good is this battery warranty? It includes toll-free warranty customer service, free replacement battery shipping, and you don't even need to save your battery receipt because we can look your order up by your name, phone number or email address.
This warranty does not apply to Currie or Razor brand battery packs because they are covered under their own separate manufacturer's warranties.
This is a limited warranty and it does not apply to improper installation, maintenance, or charging.
Electric Scooter Battery Care and Maintenance


Electric scooter and bicycle batteries can last up to 2-3 years if they are properly cared for and maintained when they are not in use.

To get the longest life out of your electric scooter or bike batteries recharge them after every ride, even very small rides. After short rides you may recharge the batteries immediately, however after long rides wait around 30 minutes to let the batteries cool down before recharging. Leaving an electric scooter or bike battery in a partially discharged state for more than a short amount of time lowers the useful life of the battery.

When replacing electric scooter or bike batteries replace all of the batteries at the same time and with the same brand of batteries.

When an electric scooter or bike is in storage recharge the batteries at least every 30 days.

Do not throw your old scooter batteries in the trash. Drop them off at a local recycling center or auto parts store for proper disposal.