Sealed Wheel Bearing Removal
A hammer and screwdriver or a bearing puller tool are most commonly used to remove sealed wheel bearings from electric scooter wheel hubs. Push or pull the wheel bearings out the hub gently and evenly to avoid damaging the wheel hub. The force to remove the bearing can be applied to any part of the bearing.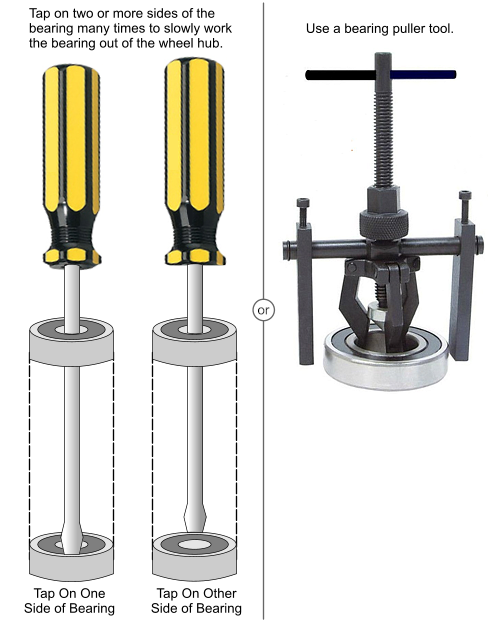 Sealed Wheel Bearing Installation
Wheel bearings can be carefully and evenly tapped into the wheel hub using a piece of metal or hardwood and a hammer. A shop press or homemade wheel bearing press may also be used to install wheel bearings into the hub. The trick to not damaging the bearing during installation is to exert the installation force evenly across the entire bearing, or solely to the outside metal ring of the bearing, and not solely to the inside ring of the bearing.
A homemade wheel bearing press or a shop press are most commonly used to exert the force needed to press bearings into the wheel hub. The bearing can also be gently tapped in little by little with a hammer and block however this is the most risky method and could result in cracking the wheel hub if not done properly. No matter how the bearings are installed all of the installation force exerted on the bearing should be placed on the bearing's outer ring and never in the bearing's inner ring or side shields. A block of metal that is larger than bearing can be used to make sure that all of the force used to insert the bearing goes to its outer ring and not its inner ring or side covers.
Homemade Wheel Bearing Press

A homemade wheel bearing press for installing sealed bearings into aluminum electric scooter and bike wheels can be made from the following materials which are available at all hardware and home improvement stores:

1- 8" or longer x 3/8" diameter fully threaded machine bolt (must be a couple of inches longer than the width of the wheel hub.




6- 3/8" fender washers (must be larger than the bearing being pressed).




1- 3/8" nut.
Place three fender washers onto the end of the bolt and insert the bolt between the two bearings and the wheel hub.

Place three fender washers and the nut on the end of the bolt and tighten together with wrenches to press the bearings into place.

Make sure the bearings start out perfectly straight and that they are not at an angle or misalignment to the hub.

Tighten the bearing press until the fender washers are pressed flush against the ends of the wheel hub to properly seat the bearings.