Razor Parts > Razor Dirt Rocket MX125 Parts
Razor® MX125 Dirt Rocket Electric Dirt Bike Parts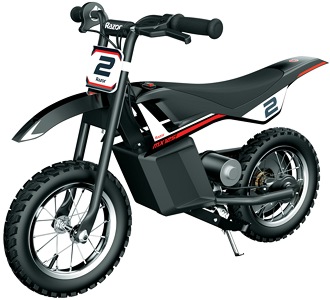 Some parts for this Razor® electric dirt bike are version specific. The version number is located on the ID tag which may be found on the battery charger, battery box, battery cover, or other areas.
ID Tag Locator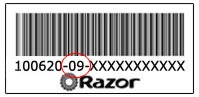 The 7th and 8th numbers on the Razor® ID tag are the version number. For example:
01 = Version 1
09 = Version 9
14 = Version 14
---
More parts for the Razor MX125 Dirt Rocket will be available soon.
---
Battery for Razor® MX125 Electric Dirt Bike
Battery for the Razor® MX125 electric dirt bike. Includes 12 month battery replacement warranty.

Warranty Details
Item # MX125-BATTERY

This battery requires reusing the old wiring harness which is soldered onto the battery. Plug-and-play battery is sold below.

$16.95

---
Plug-and-Play Battery with Wiring Harness for Razor® MX125 Electric Dirt Bike
Battery with wiring harness and connector plug for the Razor® MX125 electric dirt bike. Includes 12 month battery replacement warranty.
Warranty Details
Item # MX125-PNP-BATTERY
$32.95

---
Battery Charger for Razor MX125 Electric Dirt Bike
Wall battery charger with charging indicator light for the Razor the MX125 electric dirt bike.
Item # CHR-12V1AW1CX

$19.95

---
Battery Charger for Razor® MX125 Electric Scooter
Floor battery charger for the Razor® MX125 electric dirt bike.
Item # CHR-12V1ACX
$31.95

---
Charger Port for Razor MX125 Electric Dirt Bike
Charger port for Razor the MX125 electric dirt bike.
Item # RAZ-PORT8

$7.95

---
Switch for Razor® MX125 Electric Scooter
Power switch for the Razor® MX125 electric dirt bike.
Item # RAZ-SWITCH5
$4.95

---
Chain with Master Link for Razor® MX125 Electric Dirt Bike
Chain with master link for the Razor® MX125 electric dirt bike.
Item # MX125-CHAIN
$9.95

---
Rear Wheel Sprocket for Razor® MX125 Electric Dirt Bikes
Rear wheel chain sprocket for all versions of the Razor® MX125 electric dirt bike.
Item # SPR-2580
$19.95

---
Sprocket To Freewheel Nut and Bolt Set for Razor® MX125 Electric Dirt Bike
Stainless steel nut and bolt set for all versions of the Razor® MX125 electric dirt bike. Includes four stainless steel bolts and four stainless steel locknuts.
Item # HDW-100
$2.95

---
Freewheel Clutch for Razor® MX125 Electric Dirt Bike
Rear wheel freewheel clutch for all versions of the Razor® MX125 electric dirt bike.
Item # FWM-120
$14.95

---
Four Notch Freewheel Removal Tool
Freewheel removal and installation tool. Removes and installs 4-notch and 8-notch freewheels found on the Razor MX125 electric dirt bike. Professional quality nickel plated forged steel tool.
Item # FWM-400
$9.95

---
Safety Warning Bell for Razor® MX125 Dirt Rocket Electric Dirt Bike
Safety warning bell for all versions of the Razor® MX125 Dirt Rocket electric dirt bike. Pleasant sounding and attention grabbing chime bell sound lets others know that you are on the road in a friendly yet effective way.
Item # BEL-300

$2.95

---
Safety Warning Bell for Razor® MX125 Dirt Rocket Electric Dirt Bike
Pleasant sounding and attention grabbing bell sound. Built-in real magnetic compass. Easy to install.
Item # BEL-360

$3.95

---
53 LED Headlight for Razor® MX125 Dirt Rocket Electric Dirt Bikes
Bright 53 LED headlight. Top mounted push button switch activates three different power modes: low, medium and high. High power mode turns on all 53 LED's at once. This headlight lights up the road very well at night compared to most other LED headlights. Requires 3 AA cell batteries. (batteries not included)
Item # LIT-53LED
$11.95

---




2500 Lumen 3 LED Ultra-Bright Headlight for Razor® MX125 Dirt Rocket Electric Dirt Bike
Super bright 2500 lumen rechargeable LED headlight set for the Razor® MX125 Dirt Rocket electric dirt bike. Machined aluminum and glass headlight construction with very good build quality. Push button switch on back of light activates four different power modes: low, medium, high, and flashing. Low power mode is bright and suitable for most riding conditions. Medium power mode is very bright and suitable for demanding riding conditions. High power mode is extremely bright and suitable for higher speed riding and off-road trails. In flashing mode this light blinks on and off very fast. Includes optional adjustable headband, 2500 lumen three LED headlight, handlebar and headband mounting bands, 110-240VAC universal battery charger and a 4400mA 8.4 Volt rechargeable lithium-ion battery in a black nylon carry case with Velcro mounting straps. The battery lasts around 7 hours on low mode, 3 hours on medium mode, 2 hours on high mode and takes 1-5 hours to fully recharge depending on how long the light was on for.
Item # LIT-140
$34.95

---
Front Safety Reflector for Razor® MX125 Dirt Rocket Electric Dirt Bike
White safety reflector for front handlebars.
Item # REF-150
$4.95

---
2-1/2" Valve Stem Extender for Razor® MX125 Dirt Rocket Electric Dirt Bike
2-1/2" long chrome-plated brass valve stem extender with cap. For filling hard to reach valve stems.
Item # VXT-160
$2.79

---
7-1/4" Brass Valve Stem Extender for Razor® MX125 Dirt Rocket Electric Dirt Bike
7-1/4" overall extension length. For hard to reach valve stems. Rubber hose with brass hardware.
Item # VXT-714
$7.95

---
Green Slide® Chain Lube for Razor® MX125 Dirt Rocket Electric Dirt Bike
Green Slide® safe and biodegradable chain lube. The perfect lube for electric dirt bikes and bikes. Made from highly modified tree and plant oils with all natural cling and anti-oxidation additives.
4 fluid ounce / 120 ml bottle. More Information
Item # GSL-4OZ

$4.95

---
Slime® Inner Tube Sealant for Razor® MX125 Dirt Rocket Electric Dirt Bike
Instantly seals punctures in the tread area up to 1/8". Remains liquid, evenly coating the inside of the tube. Non-flammable, non-toxic, water soluble, easy to use. For Razor® MX125 tires use 1/2 bottle of sealant per tire.
8 fluid ounce / 237mL bottle
Item # TIR-SL8
$7.95

---