Troubleshooting Guide > Key Is Lost

Key Is Lost

If The Key Is Lost Replacing the Key Switch May Be the Best Option
If an electric scooter, electric moped, or electric bike key has been lost and there is no spare key then usually the least expensive option is to replace the entire key switch with a new one if a new key switch is available.

If a New Key Switch is Not Available Then a Key Can Be Made
If a new key switch is not available then purchasing a key blank and having a locksmith make it fit the old key switch will be necessary.
We carry key switches and key blanks on our Key Switches Page.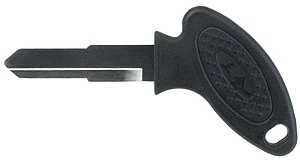 Electric Scooter and Bike Key Blank